CONFERENCE PREVIEW: Women Make Movies @ VE18
There will be several wonderful opportunities for conference-goers to consider the work of Women Make Movies (WMM) at Visible Evidence 18. Below: a preview interview with  Debra Zimmerman, the executive director of this unique nonprofit media arts organization.
"Women's ways of seeing the world are not considered central":
Interview with Debra Zimmerman of Women Make Movies
Women Make Movies was founded in 1972 to help women film- and videomakers gain access to training and equipment. Its goal: to increase the visibility of women on both sides of the camera. By the late 1970s WMM had also set up a distribution service, in response to the lack of opportunities for women to circulate and screen their films. Today WMM's distribution catalog contains over 500 titles, and includes fiction, documentary and experimental works by over 400 women filmmakers from nearly 30 countries. WMM films have won all the major filmmaking awards, from Oscars, Emmys and Peabodys to prizes at top-level film festivals such as Cannes and Sundance. On the eve of Visible Evidence 18, Marcy Goldberg (University of Zurich) spoke with Debra Zimmerman, executive director of Women Make Movies since 1983, about the challenges currently faced by WMM and by women film- and videomakers working today.
MG: How has the function of Women Make Movies changed over time?
DZ: WMM started as a collective for independent film- and videomakers, at a time when only a few women in the U.S. had technical skills or access to equipment. With the growth of video and media art centers, the problem of access began to be solved. At the same time, WMM started getting more and more requests to rent films. This was and is a needed service and a good source of income, so our focus gradually shifted.
However, we have always maintained our commitment to training. In 1988 we established our Production Assistance Program to support women in developing independent productions. The program offers projects fiscal sponsorship. We also provide valuable information and guidance through our workshop series, including workshops on how to find funding and how to market films. Over the past 4 years the Program has helped to triple the amount of funding coming in for partipants. We currently have 200 projects in various stages of production.
MG: What kinds of films do you look for?
DZ: Our mandate is to  distribute independent films by and about women, with a special emphasis on supporting work by women of color. For the past 12 years our main focus has been on documentary. The choice was more pragmatic than philosophical. Our sales are mainly in the institutional and educational sectors –universities, libraries, youth centers, and so on – where documentary is a natural fit. A really big change is the lack of experimental film work today, compared with when we started. Feminist film theory and practice were more closely aligned then. Over the years there have been increasing cutbacks in government support for artistic filmmaking. At the same time, broadcasters and foundations are interested in social activist documentary. So that's the context for what we're doing. But it would be nice to see more experimental, artistically challenging films with cultural and political impact.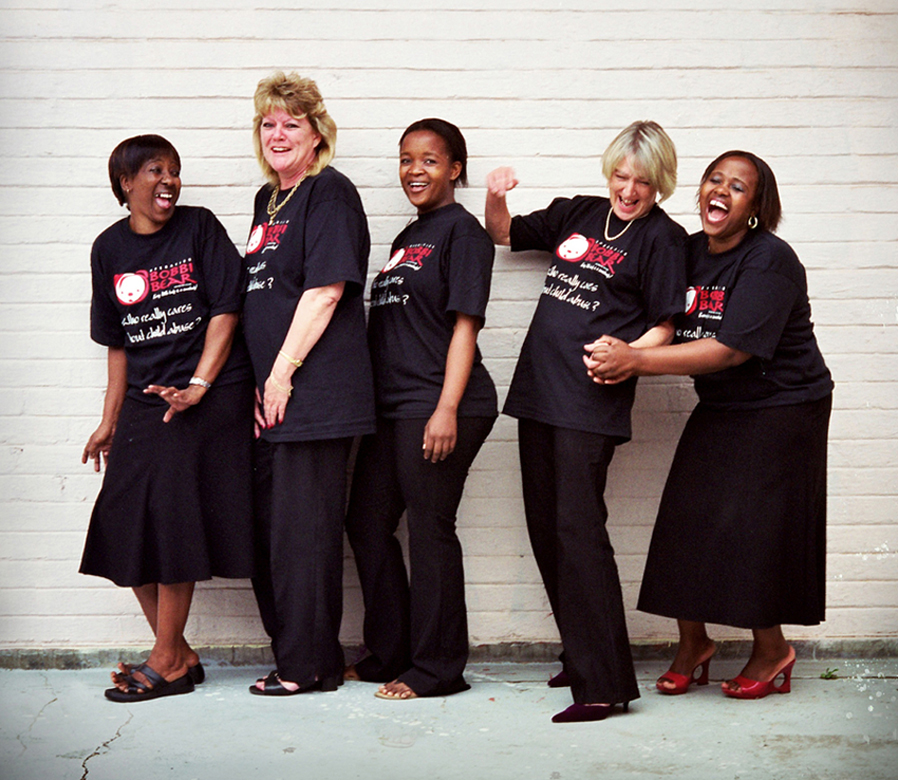 A still from Rough Aunties (UK/South Africa 2008) by Kim Longinotto, distributed by WMM
MG: On the international film festival scene today, it seems there are few films made by women. At the Cannes Film Festival in 2010, for instance, there were no films by women directors in competition, which led to the "You Cannes Not Be Serious" protest. Is there a backlash going on?
DZ: I don't know if it is a backlash because I don't know if it was ever that good! Cannes was never big on representing women. Zero films in competition was a low point, but that was down from only 2 or 3 at the most. WMM has been doing a study since 2002 on the presence of films by and about women at major festivals like Cannes, Berlin, Toronto and Sundance. We'll be releasing the results next year, when the study reaches 10 years and we celebrate our 40th anniversary.
In general I don't think women in the film world are slipping, but we're certainly not growing the way we used to be growing. The industry is still holding on tightly to old-fashioned concepts of what people want to see. If you look at the programming of any major festival, you will see few films by women, and few films about women. Recently there has been a big focus on blockbuster documentaries, million-dollar films that get tremendous exposure. Animal films, war films, investigative documentaries on politics and the economy. Women are not seen as part of that universe. We are seen as a special interest group. Women and women's ways of seeing the world are not considered central, and that's really, really troubling.
MG: Would you say that younger audiences are less interested in feminist issues?
DZ: Every few years Time magazine likes to run a cover story on how "feminism is dead". But we get lots of young interns, and many requests from college audiences for our films. I think there may be a lack of knowledge among younger women about what preceded them. But internationally there has been an explosion of women's film festivals over the past few years. WMM has worked with many groups in Asia, Latin America and the Middle East to help start new festivals. Festivals are a great mechanism for getting films to audiences. And the audiences are not just women, I can tell you that.
MG: Has the internet helped you in your work? What about digital cinema or video on demand?
DZ: Looking back, we've had to deal with a new format every 5 years or so. We've moved from 16mm, 1/2-inch reel-to-reel, Beta, VHS, DVD and now digital downloads. Every time something new comes along, people think everything will change. Cable TV, documentary TV… But they still find a way to leave women in the dust. I think digital downloads are a real opportunity, but the format is still in transition. We're just beginning to get requests from universities for digital licensing. So I'm cautiously optimistic. Filmmakers often think that theatrical release or big broadcast is the only way to go. But we create individualized strategies to suit the films, whether it's a mainstream festival launch, a specialized event, theatrical release, educational, or now digital download. Our next step will be to technically revamp our platform and take our database to the next level. We're working on a new project together with other distributors: California Newsreel, Bullfrog and Icarus. This will be a public-private partnership.
MG: To conclude: what advice do you have for women filmmakers? What should women be doing differently?
DZ: In documentary you don't often find men producing films for women directors. It's usually the other way around. I often meet women trying to do it all, while it's rare to see a male producer-director with no other support. At Sundance a couple of years ago, most of the documentaries in competition by women were produced by teams of women. Women should reach out, claim space, get the support they need, and also get men to support them.
A proficient gas passer will propose in NYC you applicable pain management.